Bailu Forum | The Jewish National War in World War II
Dr Mort Soroka recounts those turbulent years
We, who grew up in peaceful times, have thought about what kind of life people are living under the flames of war?
Have you ever imagined how such a war experience has affected your life?
Do you now know how the parents and grandparents of the Jews around you came to this "mountain city"?
This is the life story of Samuel Soroka, his miracle surviving history during the Second World War. It 's not just Samuel Soroka 's life experience, it 's also American-JewishEthnographyOf the Jews around youFamily history.
In this event, we invited the son of the hero of the story, Samuel, a professor at the State University of New York's School of Ophthalmology, Mort Soroka, to take a first look at his father's life changed by the war.
When World War II broke out, Samuel, who was living in the Nazi-hardened area of Poland, began his many years of escape. First fled from Poland to Lithuania, then to Moscow, and then to Kobe, Japan. During the period, he and China were inextricably bound-because China was one of the few countries that helped and rescue Jewish refugees fleeing the clutches of the Nazis, Samuel arrived in Shanghai in 1941 and became the asylum of more than 18,000 in Shanghai at that time. One of the Jews.
Good things happened. After Samuel got a US visa to leave Shanghai, his ship was bombed by the Japanese on December 7, 1941. After his death, Samuel was unfortunately arrested and imprisoned for three and a half years in a Japanese prisoner of war camp in Manila, Philippines. It wasn't until Raid on Los Baños that the U.S. Army and the Philippine guerrillas rescued more than 2,100 detainees in the prisoner of war camp. Samuel officially set foot on the continental United States and began his new post-war life.
From Samuel's perspective, you can understand how the great wheel of history has passed through every innocent individual at the time, and how strong resilience and endurance born to survive the adversity. As a narrator, Mort takes you from a more bystander's perspective, taking you back to the important position of the Jews on the stage of American history after World War II.
Samuel Soroka's passport
Dr. Mort Soroka
State University of New York Professor of Public Health. Dr. Soroka is the head of the Center for Vision Care Policy, an academic public health policy research center at State University of New York. In addition, he has played a role as a think tank consultant in many business organizations, government agencies and public health organizations. His most recent publication, A Mirrer in Manila, tells the story of his father, a student of Mirrer Yeshiva, a well-known Jewish institution, who fled from Poland to the United States. In writing this book, Dr. Soroka has conducted extensive research and investigation of many details related to this historical fact and story.The series of lectures related to this book have been invited by different organizations and have received warm response many times.
time
Tuesday, January 14
7: 00-9: 00 PM
location
SUNY College of Optometry
33 W 42nd St.
New York, NY 10036
Discounted fare
$10
(Follow the public account, send "discount" in the background to get $5 discount code)
Ticketing link
Click on the original text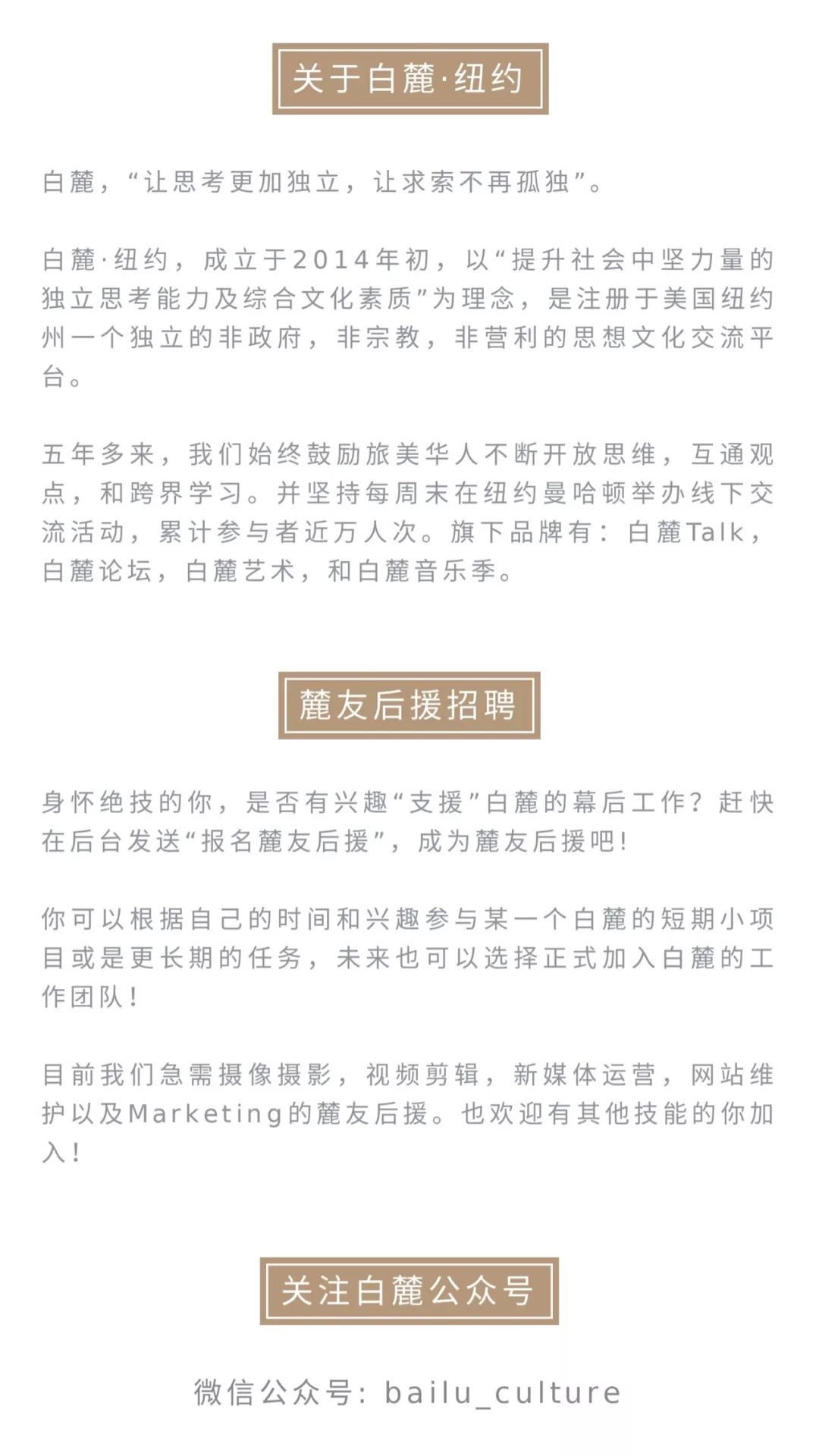 For submission, donation or business cooperation, please email: info@bailunyc.org
Activity notice
1. Due to the limitation of the number of people on the event, tickets for the event are sold out, and there is no on-site ticket purchase and station ticket. Please understand.
2. Please bring your ID and ticket voucher to be present on time.
3. Please receive the discount code at the Bailu public number.
4. The location will be updated on the Eventbrite website.
Activity process