Welcome to click "麓山学社" to add a subscription.
The New York Lushan Institute Learning Board is a new creativefreeCultural social activities. Through the limited number of participants (about 20 people) and the unique design of the activity process, we are committed to creating a platform for active interaction and efficient knowledge acquisition. I believe it will bring you a chic experience!

Artificial Intelligence Artificial Intelligence
This week's reading session will be told by the speaker. Martin Mocha   Demonstrate his understanding and understanding of Artificial Intelligence. The AI will be introduced separately:
history
Current application areas of artificial intelligence
Outlook for 5-10 years
The impact of artificial intelligence on global change and future work.
The definition of Artificial Intelligence (AI) can be divided into two parts, namely "artificial" and "intelligent". "Manual" is better understood and less controversial. Sometimes we have to consider what human beings can make, or whether the level of intelligence of oneself is so high that artificial intelligence can be created, and so on. But in general, "artificial systems" are artificial systems in the usual sense.
There is a lot of problem with regard to what is "intelligence". This involves other issues such as consciousness (consciousness), self (self), mind (including unconscious thinking) and so on. The only intelligence that people understand is the intelligence of people themselves. This is a widely accepted view. But our understanding of our own intelligence is very limited, and we have limited understanding of the necessary elements that constitute human intelligence, so it is difficult to define what is "intelligence" of "manual" manufacturing. Therefore, the research of artificial intelligence often involves the study of human intelligence itself. Other intelligences about animals or other man-made systems are also commonly considered to be research topics related to artificial intelligence.
Artificial intelligence is now gaining more and more attention in the field of computers. And it is applied in robots, economic and political decision-making, control systems, and simulation systems.
The main contents of artificial intelligence research include: knowledge representation, automatic reasoning and search methods, machine learning and knowledge acquisition, knowledge processing systems, natural language understanding, computer vision, intelligent robots, automatic programming and so on.
Born in Nanjing, the ancient capital, he graduated from junior high school and moved to Miami. He graduated from Columbia University and is currently working in finance in New York. Obsessed with Chinese classical culture, he is currently the president of New York Hanfu, and is committed to spreading and promoting traditional culture in the East. I like to read miscellaneous books, learn crafts, study new things, and dream of becoming a happy hybrid scientist.
    Experienced Vice President with a demonstrat history of working in the commercial real estate industry. Skilled inNegotiation, Operations Management, Sales, Management, and Startup Development. Cofounder of Igluu LLC, with focus on disruption of rental industry androommate search while applying smart data and artificial Member. the Brookings Council and guest speaker at the Fordham University.

You can learn more about Martin at his Linkedin Profile: https://www.linkedin.com/in/martin-mucha-69223210a

Manhattan - see the WeChat group notification after registration
Click on the QR code below to register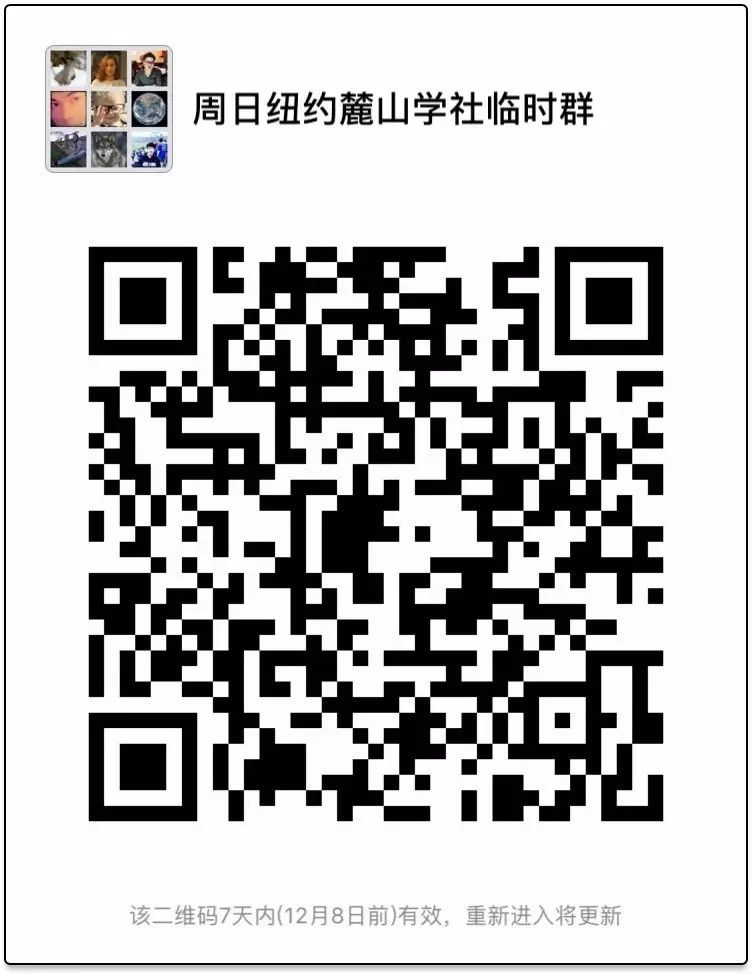 1. Share people introduce books/topics and express their own opinions (about 45 minutes)
2. Each participant expresses their own feelings or asks questions (about 2 minutes / person)
3. All participants were discussed in small groups (about 20 minutes)
4. The group selects representatives to summarize the speech, free discussion, and the shareholder and moderator make the final statement.
5. Friends who are still unfinished after the event can voluntarily gather and continue to talk.
1. Due to the limitation of the number of people, if you are unable to attend due to any reason, please inform the volunteers of the society as soon as possible and withdraw from the event group so that other book friends can join.
2. Please bring your ID to arrive on time.
3. Any questions about the book club can be submitted at any time in this event group, and the volunteers on duty will try their best to help you.
Participants' speech does not represent the position of the school!
About New York Lushan Institute
Lushan Institute "Let the thoughts be more refined"
Lushan Institute is a privately organized organizationNon-government, non-religious, non-profitPublic welfare organization. The New York Lushan Institute has enhanced the participants' discernment ability and expanded cultural cognition through a series of activities such as reading clubs. Based on the interest in reading, we share our thoughts and sentiments, and make friends who share our interests.
Currently, we organize a free reading club event in Manhattan every week. The specific location is announced in the WeChat group one day before the event.
Subscribe to WeChat public account
Click on the top of the "Yushan Society" or press and hold the QR code below to identify the scan to add a subscription.
Long press the identification to scan the QR code of the "Shanshan Robot" below. After adding a friend, the robot will send the group invitation.
Volunteers from the New York Lushan Institute are a group of enthusiastic friends from all over the world. You are welcome to contact us via email or WeChat to join our volunteer team.
WeChat public number: lushanxueshenyc  
Long press to identify the QR code
Pay attention to the Lushan public number
I am Meng Mengshan robot 😜
Micro signal: lushanxueshe