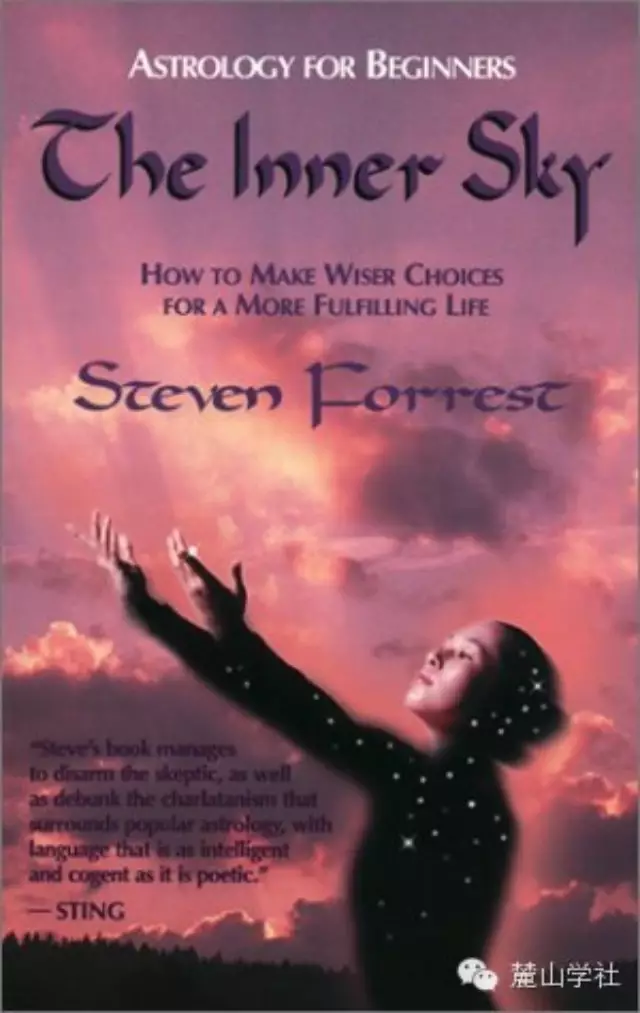 订阅麓山学社(点击本文标题下方的 " 麓山学社", 或加微信: lushannyc]
——————————
麓山学社读书交友会是一个全新创意的文化社交活动!通过对参与人数的限定(15-18人),以及对活动流程的独特设计,我们致力于打造一个能让您高效地互动,社交,以及获取信息的平台。让我们为您带来不一样的体验!
分享人:Anthony S. Picco
分享书目:《The Inner Sky》
时间:2015.3. 7下午2:30pm至5:00pm
地点:哥伦比亚大学校内具体地址报名后通知。
报名链接:点击最底端左下角"阅读原文"或"read more",将跳至活动报名链接。
分享者简介:
Anthony S. Picco
Anthony S. Picco has been a professional astrologer since 1986, with hundreds of readings and many hours of client counseling under my belt. He thinks of himself as a "meat-and-potatoes" astrologer, relying on the traditional tried and true basics. Currently an NCGR (National Council for Geocosmic Research) member, he is also co-hosting an internet radio show called "What's Your Sign? I Have Your Number" with Sharita Star, every Monday evening from 7pm-9pm Eastern Time, on the Hey Z Radio Network. He was part of an astrology discussion panel on BCAT TV, Brooklyn Cable Access and has appeared a number of times on "Practical Astrology" on BlogTalkRadio's Angels & Warriors station with host Dawn Tevy. He has lectured at The Eyes of Learning, "Long Island's Oldest and Most Respected Teaching and Metaphysical Learning Center" in Levittown, NY and organizes/hosts the NYC Astrology Meetup, held usually on the second Tuesday of every month at the Quest Book Store at 240 East 53rd Street, New York, NY, 10022. You can register for announcements at www.meetup.com by joining "The New York Astrology Meetup." His blog is at www.cosmictuesdays.com.
分享书目简介:
《The Inner Sky》
The Inner Sky by Steven Forrest is a best-selling astrology classic and won the 1985 PAI Award 1985 (Professional Astrologers Incorporated) when it was published. Useful to both beginning and seasoned astrologers, the book introduces all the astrological basics–signs, planets, houses, aspects–and pulls them together in a step-by-step process anyone can learn. It has received praise by professional astrology teachers as well as celebrities such as Sting and Robert Downey Jr. Readers will learn an approach to astrology that is positive and affirming, and which celebrates human diversity. The writing reaches the reader through clear imagery, differing from astrology texts that are simply descriptive, The Inner Sky takes the reader on a journey into the astrology of freedom and choice where we discover the interplay of celestial influence and free will.
作者简介:
Steven Forrest
Steven Forrest is the author of several astrological bestsellers, including The Inner Sky, The Changing Sky, The Book of Pluto, The Night Speaks and Yesterday's Sky. Steven's work has been translated into a dozen languages, most recently Chinese and Italian. He travels worldwide to speak and teach his brand of choice-centered "evolutionary" astrology, which integrates free will, grounded humanistic psychology and ancient metaphysics. Along with his busy private practice, he maintains active astrological apprenticeship programs in California, Australia, North Carolina, and Switzerland. He is a founding member of the Ethics Committee of the International Society for Astrological Research (ISAR).
高度互动的活动流程:
1)分享人介绍书籍并发表自己的见解(约15分钟);
2)每位参与者发表自己的感想(约2分钟/人);
3)所有参与者将分成小组进行交流,并提出一个与主题相关的问题;
4)参与者就提出的问题展开讨论,展思辨之风采。(约2分钟/人);
5)活动结束后,欢迎意犹未尽的朋友加入聚餐,继续畅谈。
友情提示:
1)不要求参与者提前准备,分享者将提供讨论所需的信息
2)请尽量准时到场,以免错过分享人介绍书目
3)请带好ID
4)如果寻找不到会场,请在活动临时微信群或是Facebook麓山学社Group内发信息,我们将及时回应
5) 每次读书会限制人数为18人, 请想要来参加的朋友提早尽快报名,填写完表格并且扫描进临时群才算报名成功。满额后的报名者将在waitlist 里面。
活动参与者的一切言论都不代表本学社立场。
**************************
麓山学社 –让思想更精致
麓山学社是一个民间自发组织的非政府,非宗教,非盈利的公益性组织。纽约麓山学社通过读书会活动提高参与者的独立思考与判断力等综合素质。我们基于读书的兴趣,分享知识与感悟,结交志趣相投的朋友。
我们目前每周在纽约地区组织免费的读书交友会活动,地点在哥伦比亚大学或Fordham University。
订阅"麓山学社",回复"美文",阅读更多美文系列文章; 回复" 读书会",查看我们的纽约读书会活动。